A home cook behind the Keeper of the Home at 4D Farms Youtube account generously shared her easy-to-do cinnamon rolls.
In fact, the lady only used canned biscuits.
Apparently, her husband stumbled upon this interesting hack on Pinterest and requested her to try it out.
As the loving wife that she is, she happily agreed not only to her husband's advantage but ours too!
The usual way she whips up some cinnamon rolls is the traditional way, where she makes them from scratch.
One fine night, the couple was just sitting thinking of ideas when her husband said,
"Hey you know I saw this one time on Pinterest. I think you can make cinnamon rolls from biscuits."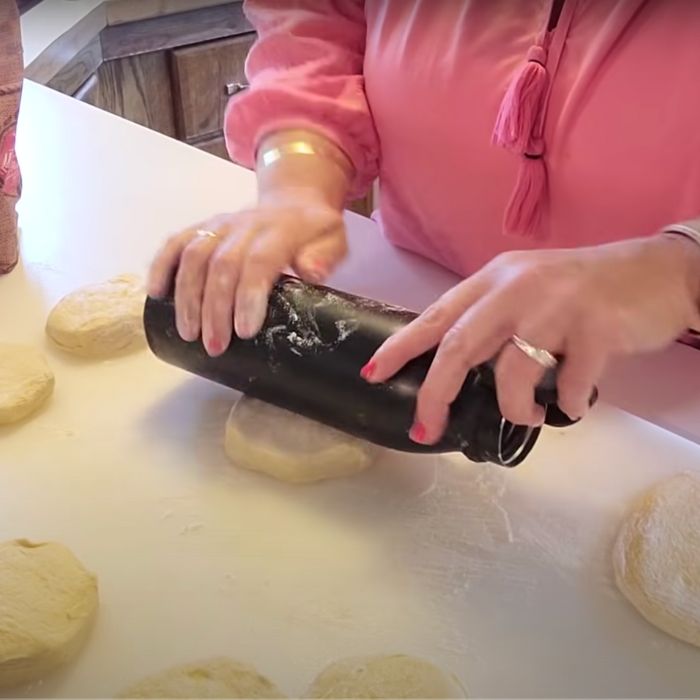 It was her first time trying the recipe out when she shot the video.
To start, as her oven pre-heats, she opened up a can of Pillsbury Flaky Layer Biscuits and spread some flour on the board to prevent the biscuits from sticking all over.
She proceeded to get some flour onto the biscuit doughs.
She didn't have a rolling pin.
So she used a water tumbler to roll each of the dough patties out until they were flat.
Then, she pieced 8 together.
Four at the bottom and four at the top, by pinching the seams together until a rectangular piece of dough was formed.
It was then rolled again until everything came together. Next, she spread some butter over the biscuit dough.
Make sure to not use cold butter or else the biscuits might break apart. Room-temperature butter is the way to go.
Butter and sugar – a recipe for success
After that, she took out the brown sugar and spread it generously over the butter.
If you want to take it a step further, you can also top that up with pecans, walnuts, or any peanut of your choice.
Then it was finally the time for cinnamon! She sprinkled some on top until all the biscuit dough was covered.
She then went ahead and rolled the edge of the dough using a fold-tuck-pull-roll technique. She kept rolling until the dough looked like a whole rolling pin.
This she cut into 16 pieces.
The dough pieces were then layered into a greased casserole with four pieces in each row.
She then placed them in the pre-heated oven at 350℉ and baked them until they turned golden brown.
Every time she showed the progress of the cinnamon rolls in the oven, I couldn't help but salivate! They looked so good!
She also kept on saying that her whole kitchen was smelling so great.
The homemaker pre-made the toppings with 1/2 block of cream cheese, some stevia, vanilla flavoring, milk, and a bit of hazelnut cream.
You can easily substitute these ingredients with whatever preference you have. The goal was to make the topping a bit wet for easy spreading later on.
When the rolls finally expanded with a golden brown finish, the home cook took the babies out and proceeded to frost the cinnamon rolls.
And that's it!
The whole process was so quick and easy that anyone can pretty much bake some of these up. When she finally tried one, she said it was "finger-lickin' good!"
While watching the video, it's impossible to not crave these sweet cinnamon rolls and fortunately, we now have this little hack to make some ourselves.
See how to turn canned biscuits into cinnamon rolls in the video below!
Please SHARE this with your friends and family.
Gianella Argao is a contributor at SBLY Media.