For someone in charge of food preparation, having a holiday menu to execute could get a little nerve-wracking.
Coming up with the best dessert is another thing entirely.
Thankfully, the internet is always there to save us from this dilemma. Now, preparing sumptuous food for the family is just a matter of a click or tap.
One Switzerland-based YouTube channel that goes by the name 'Lifehackerin' is blessing its viewers with useful tips and tricks in the kitchen.
Ultimately, what makes them an interesting channel to watch is their creative recipes that are pleasant to the tummy and eyes alike.
Just one dough recipe can yield 9 different Christmas cookies.
Yes, you read that right! Who would've thought a single dough mixture could be so versatile?
Brace yourselves because it's going to be a roller-coaster ride of flavorful treats!
For the dough, you just need to have the following:
250 grams of butter
200 grams of sugar
2 eggs
salt
500 grams of flour
1 teaspoon of baking powder
Prepare the dough using these steps…
Step 1: Take soft butter and stir it in a bowl.
Step 2: Put in sugar and eggs, then mix until it gets fluffy.
Step 3: Add a bit of salt, baking powder, and flour. Mix everything well until you have a smooth dough.
Add color and flavor.
Nobody wants a basic dough, it's time to flavor your dough.
Step 1: Divide the dough into 3 portions.
Step 2: For one portion, enhance the taste with orange: by grating the orange peel and mixing it into the dough.
Step 3: In the second portion, mix in 2 tablespoons of cocoa powder to make it chocolate-flavored.
Step 4: The third portion includes 70 grams of ground almonds in the mix.
Step 5: Make small balls from the dough.
Step 6: Put about 2 to 6 balls in the waffle iron, considering its size.
Step 7: Shut the lid and bake for roughly 2 minutes.
Step 8: No need to grease the waffle iron because the dough contains enough butter.
Step 9: Take out the cookies when they turn slightly brown, then bake the next set.
Step 10: You can choose to make bigger balls for larger cookies, but we prefer the smaller ones.
Slice and dice them.
Step 1: Flatten the dough on a surface dusted with a bit of flour.
Step 2: Use a knife to slice the dough into strips of roughly the same length, then cut these into uniform rectangles (or diamonds).
Step 3: Alternatively, you can also use cookie cutters to shape them.
Step 4: Arrange the cookies with some space between them on a baking tray lined with parchment paper. Let them cool for approximately 10 minutes.
Step 6: Preheat the oven to 180ºC (using both upper and lower heat).
Step 7: Bake the cookies for about 10 minutes, but keep an eye on them as the time may vary based on the dough's size and thickness.
Step 8: Allow the cookies to cool.
While they cool, prepare the icing:
To make the frosting:
Combine 50 grams of powdered sugar with 1-2 tablespoons of orange juice.
Then grate some orange peel for decoration.
To prepare the chocolate glaze…
Melt 50 grams of (dark) chocolate using a water bath.
Ensure it doesn't become too hot!
Allow the melted chocolate to cool a bit before using it.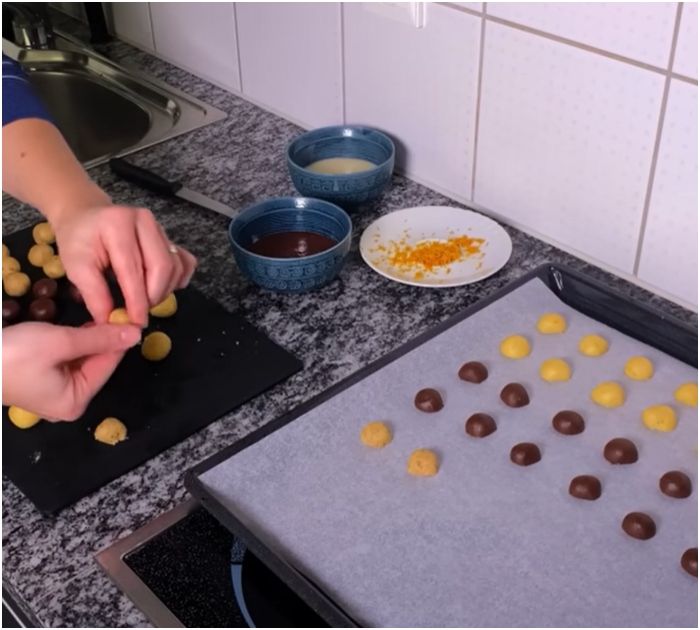 Cream-filled balls:
Step 1: Shape the dough into small balls and arrange them on a board.
Step 2: Chill the dough balls in the fridge to help them firm up
Step 3: Use a knife to cut the chilled dough balls in half, then position them with the cut side facing downward on a baking tray.
Step 4: Bake them at 180ºC for approximately 10 minutes.
Step 5: Allow the baked cookies to cool down.
And for the filling:
Step 1: Combine 50 grams of butter with 50 grams of powdered sugar, then mix in some orange zest.
Step 2: Apply the buttercream onto the cut side of one cookie and place another cookie on top.
Step 3: Alternatively, you can use raspberry, currant, or apricot jam instead.
Isn't that easy? With this recipe, you no longer need to worry the next time you hold a feast at home. Try it and don't forget to share it with your family and friends.
See how it's done step-by-step in the tutorial video below!
Disclaimer: The video is in Swedish, so turn your subtitles on by hitting the CC button.
Please SHARE this with your friends and family.