Nothing says summer like a big slice of juicy watermelon.
Made up of 92 percent water, the perfect watermelon is good for you and refreshing, especially on a hot day.
Yet, the biggest issue with a watermelon is picking one that has ripened enough but hasn't become overripe.
Luckily, Jag Singh from Daisy Creek Farms decided to share some very useful tips for picking the perfect watermelon!
Here are four ways to tell when a watermelon is at its peak ripeness.
1. Be sure to check the stem.
Usually, when you go to the produce section, the watermelons are in a large cardboard container.
For the most part, unless you know what to look for, all watermelons look pretty much the same.
There is an easy way, though, to check if a watermelon was picked before it had a chance to fully ripen.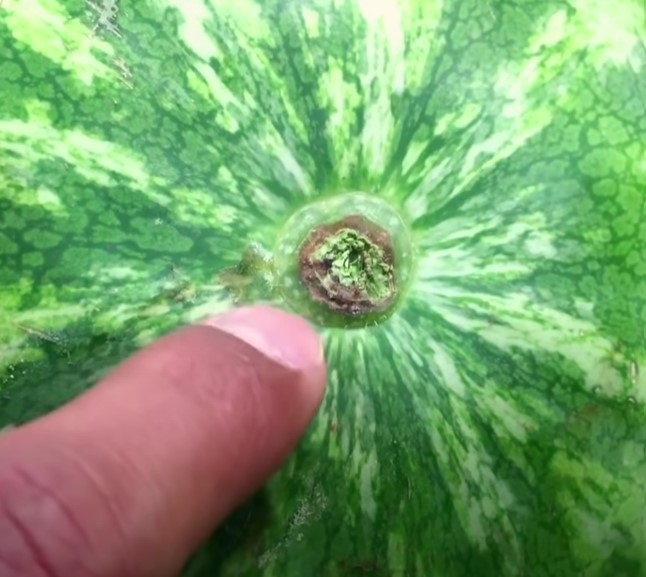 Simply look for the stem where the vine was attached to the watermelon.
If it is green, then it was picked too soon and will not be as ripe.
A brown stem indicates that the watermelon was allowed to ripen fully.
The result will be a nicely ripened watermelon that is sweet and juicy inside.
2. Look for the spot on the outside of the watermelon
Another way to tell if a watermelon was allowed to ripen fully is by looking for spots on the outside.
If there is a small white spot, then chances are the watermelon was picked way too soon.
Watermelon with a large yellow spot on the outside means that the vegetable/fruit was allowed to catch more of the sun's rays and ripen more fully.
Watermelons with this large, creamy yellow spot, also known as a field spot, indicate a watermelon that is ripe and ready to eat.
3. Check the firmness of the watermelon
The firmness of a watermelon also goes a long way toward confirming whether it is ripe or not.
A watermelon that is too firm, or doesn't have any give when you push on the outside, is not yet ripe enough.
On the other hand, a watermelon that gives a little when you push on it is just right.
Be careful, though, if a watermelon's outer skin or rind gives too much, then it is overripe.
4. Give the watermelon a good tap
The sound a watermelon makes when you tap it is also a great indicator of how ripe it is.
Tap on the middle of the watermelon, listening to see what sound it makes.
If the sound is high-pitched then the watermelon has not ripened enough.
Similarly, if you tap on a watermelon and it makes a low-pitched sound, then it is overripe.
Watermelons that have a hollow sound or plunk when you tap them are just right.
These watermelons are full of water and will have the sweetest taste.
Watch the video below to hear firsthand from the farmer how to pick the sweetest watermelons!
Please SHARE this with your friends and family.