Is there anything that says spring is here and summer's on the way more than a good old-fashioned BBQ?
If you're wondering, the answer is no. Nothing is ever better than BBQ.
But this recipe makes BBQ even better.
Yup. This BBQ rib recipe has run the gamut online and come out a landslide winner in the flavor department.
But the absolute best part is that it's super easy.
The recipe was shared by Burning Cereal on YouTube and quickly went viral. Why? Because they are so darned easy and delicious to make.
They active ingredient is Coca-cola.
Sounds a little odd, right? Well, as it turns out, the sulfuric acid in the cola is apparently an amazing meat tenderizer.
And, as we all know, tender is the word you wanna hear when it comes to mowing down on some BBQ ribs.
As his caption puts it:
"Barbecue pork ribs, so good, but do we all have the time and a smoker to make them? I sure don't. I do have a slow cooker and a few minutes to get them ready. Just pop them in the slow cooker and head to work. When you come home you just spend an extra 10 minutes and you have some delicious BBQ ribs for you and the family."
Of course, more than just coke goes into this recipe, but really, not much.
Gather these ingredients:
3 lbs of pork ribs
2 liters of Coca-Cola (you can swap for a different soda if you want, but the flavors will change)
2 cups of Brown Sugar
1 Tblsp. of Garlic Powder
1 Tblsp. of Paprika Powder
1 Tblsp. of Cayenne Pepper
1 Tblsp. of Onion Powder
1 Tblsp. of Black Pepper
1 Tblsp. of Salt
Your favorite BBQ sauce
We're making a dry rub.
Step 1- dump all of your dry ingredients into a mixing bowl, starting with the brown sugar.
Once everything is in the bowl, use a whisk to slowly and gently break up the clumps of brown sugar and throughly combine it with the other ingredients.
It's important to note that this will make a big batch of dry rub. Thankfully, it stores beautifuly if kept in a cool, dark, dry area for up to a month.
That's excellent news for the frequent barbeque fan, but if you don't see yourself using that much in a 30-day period, you can easily halve the recipe and still have plenty to rub down your ribs with.
Step 2- rub your ribs
Just take about 1/4 to 1/2 a cup of the dry rub mix and pour it on a slab of ribs. Then, rub it gently into the meat, making sure to cover it on all sides.
You might want to put on some food-handling gloves for this one. You wouldn't want to accidentally rub your eyes after working with the rub. After all, Cayenne pepper packs a punch.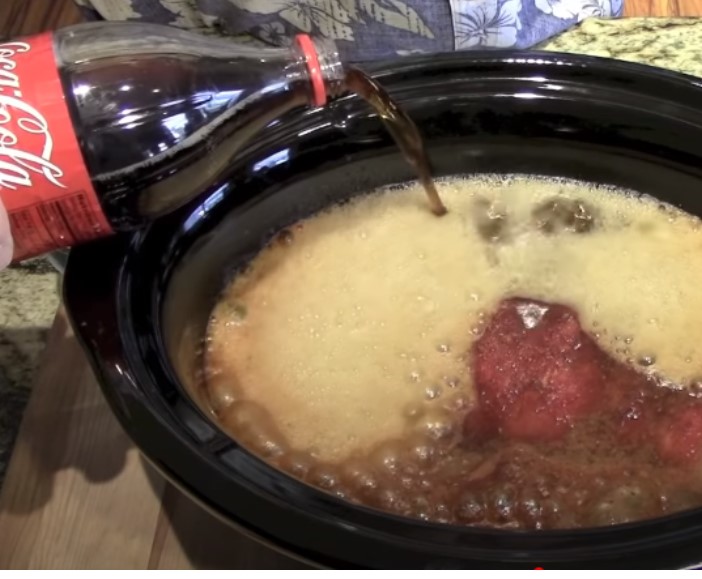 Step 3- layer and pour
After you've got your ribs rubbed, lay them in the slow cooker (stacking them up is fine). Then, take your coke and gently pour it into the slow cooker.
Make sure not to pour the coke out directly onto the meat, as it will wash away your dry rub and we want it to stick as much as possible.
Pour until the ribs are completely covered.
Step 4- Give it some sugar
This recipe goes the extra mile in terms of sticky-sweetness, and to give the ribs that special flair, we're called to top it off with a hearty sprinkling of brown sugar.
Step 5- cover and cook
Cover up the slow cooker and set it to cook on low for 6 hours. Make sure to resist the temptation to remove the lid for at least an hour and a half. Ideally you will leave it covered the entire time it's cooking, but if you just can't help yourself, wait a full 90 minutes before peeking in on it.
Step 6 is all about getting saucy.
After the full 6 hours have passed, use cooking tongs to remove each rack of ribs to a foil-lined baking sheet.
Brush each side of the ribs with your favorite BBQ sauce, or try making your own.
Step 7- Crisp em' up
Now all that's left to do is to stick the ribs under your broiler for roughly 4-5 minutes, depending on how crispy and sticky you like them.
Just let your eyes and nose be your guide, and you will come out with mouthwatering ribs like this:
See how deliciously these mouthwatering ribs come apart in the video below!
Please SHARE this with your friends and family.