Cooking up a delicious dinner doesn't always have to be an extravagant affair.
Mouthwatering meals can be made in a snap if you've got a good recipe up your sleeve.
And who better to get a recipe from than a personal chef?
Meet Chief Culinary Advisor J. Kenji Lopez-Alt of Serious Eats.
Kenji is also skilled as a writer; having written two notable books that have gained him popularity.
His first book, The Food Lab: Home Cooking Through Science won recognition as a New York Times best-seller, and was named Cookbook of the Year in 2015 by the International Association of Culinary Professionals.
He's also Chef/Partner of Wursthall.
Wursthall is a German-inspired California beer hall near his home in San Mateo.
"Po-ta-toes! Boil'em, Mash'em, Stick'em In A Stew"–Samwise Gamgee
Kenji's recipe for roasted potatoes is turning heads.
The blend of spices used and the cooking method gives a crispy, crunchy feel to the potatoes that's hard to come by.
The savory center is filled with a creamy, starchy texture that elevates the senses to the high heavens.
Oh, and if you were wondering, this recipe is completely gluten-free and vegan-friendly for all you conscious eaters out there.
The key to this recipe is that it breaks down the starch with alkaline water to create a bigger surface area and a more crunchy texture.
Here's what you'll need:
Kosher salt
1/2 teaspoon (4g) baking soda
4 pounds (about 2kg) russet or Yukon Gold potatoes, peeled and cut into quarters, sixths, or eighths, depending on size
5 tablespoons (75ml) extra-virgin olive oil, duck fat, goose fat, or beef fat
Small handful picked rosemary leaves, finely chopped
3 medium cloves garlic, minced
Freshly ground black pepper
Small handful fresh parsley leaves, minced
Making the roasted potatoes:
1) Put oven rack in the center position and preheat oven to 450° F/230° C(400° F/200° C if using a convection oven).
Heat 2 quarts (2L) water in a large pot over high heat until boiling point. Add two tablespoons kosher salt (about 1 ounce; 25g), baking soda, and potatoes and stir.
Return to a boil, reduce to a simmer, and cook until a knife meets little resistance when inserted into a potato chunk, about 10 minutes after returning to a boil.
2) Next, mix the olive oil, duck fat or beef fat with rosemary, garlic, and also some black pepper in a small saucepan and heat over medium heat.
Be sure to stir, cook, and shake the pan constantly until the garlic just begins to turn golden colored (usually about 3 minutes).
Immediately strain oil through a fine-measure strainer set in a large bowl. Set garlic/rosemary aside and reserve it separately.
Can you say yum?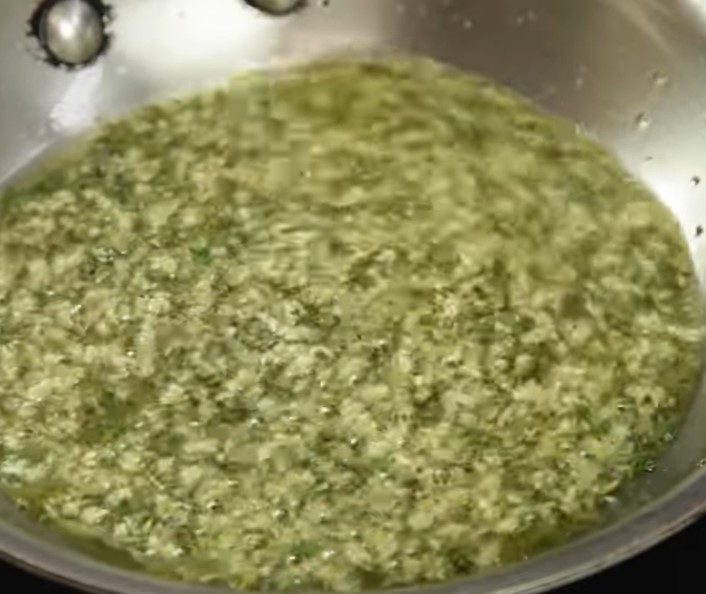 3) When potatoes are cooked, drain carefully and let them rest in the pot for about 30 seconds to allow excess moisture to evaporate.
Transfer to bowl with infused oil, season to taste a little more salt and pepper, and toss to coat making sure to shake the bowl roughly until we thick layer of mashed potato-like paste has built up.
4) Transfer the potatoes to a large rim baking sheet and separate them spreading them out evenly.
Transfer to oven and roast 20 minutes.
Then, use a thin flexible metal spatula to release any stuck potatoes, shake the pan, and turn the potatoes.
Continue roasting until potatoes are deep brown and crisp all over, turning and shaking them a few times during cooking for about 30 to 40 minutes longer.
The last step.
5) The final step is to transfer the potatoes to a large bowl and add the garlic/rosemary mixture and minced parsley.
Toss to coat and season with more salt and pepper to taste. Serve immediately.
And voila! The recipe is complete and the potatoes should be scrumptious enough for any occasion.
A few more things to consider?
Russet potatoes will yield a crispier texture with fluffier centers.
Yukon Gold, on the other hand, will be slightly less crispy with creamier centers, darker color, and deeper flavor. We recommend giving both a whirl.
See how delicious this potato roasting method turns out in the mouthwatering video below!
Please SHARE this with your friends and family.