Imagine this: a cinnamon roll, warm and gooey, fresh out of the oven.
Its sweet, spicy aroma fills the room, while the soft dough and creamy icing come together to create a flavor that's nothing short of heavenly.
Now, what if you could take this already delicious treat and kick it up a notch?
That's precisely what this ingenious cinnamon roll hack does, transforming your everyday canned cinnamon rolls into a treat that could rival any bakery.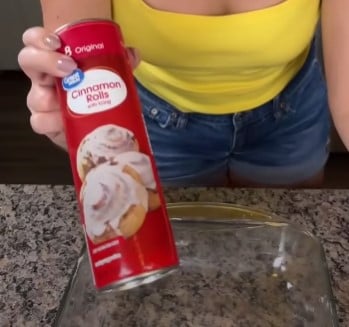 The journey begins with a simple canned cinnamon roll, according to Kristin from the YouTube channel "Kristin's Friends Cooking."
You know the ones, often overlooked in the grocery store for their fancier, bakery-made rivals.
But these modest rolls are about to get a serious makeover.
As they're laid out in a baking dish, the anticipation begins to mount.
Every piece of the roll is used, even the small bits, filling in the gaps to create a perfect canvas of doughy potential.
Here's where things start to get really interesting.
A generous pour of heavy whipping cream is added directly on top of the rolls.
It might seem a bit unconventional, but it's a game-changer.
The rich, velvety cream seeps into the rolls, infusing them with moisture and a decadent richness that takes them from plain Jane to extraordinary.
But we're not stopping there.
Next up, a mixture of melted butter, brown sugar, and a dash of cinnamon is prepared.
This sweet, buttery blend is drizzled over the cream-soaked rolls, adding another layer of flavor.
As it caramelizes in the oven, it creates a sticky, sweet glaze that pairs perfectly with the spicy cinnamon.
The secret weapon in this culinary adventure, though, is a pinch of salt.
It might seem odd to add salt to a sweet treat, but it's this very contrast that amps up the flavor.
The salt enhances the sweetness, making it stand out, while adding a subtle savory note that balances the overall taste.
Once the rolls are all dolled up and ready to go, they're covered in foil and sent off to the oven.
As the heat works its magic, the rolls rise and the cream and sugar mixture bubbles and caramelizes.
The result? A pan of golden brown, sticky, irresistibly delicious cinnamon rolls.
The pièce de résistance is the icing.
The same icing that came with the canned rolls is now used to add a final layer of sweetness.
As the warm rolls melt the icing, it seeps into every nook and cranny, coating each roll in a sweet, creamy glaze.
The end product is a cinnamon roll that's far from ordinary.
It's soft and gooey, sweet with a hint of saltiness, and packed with a depth of flavor that's truly out of this world.
It's a showstopper, whether you're serving it at a family gathering or savoring it on a quiet morning with your coffee.
This cinnamon roll hack proves that with a little creativity and a few simple ingredients, you can turn the ordinary into the extraordinary.
It goes to show that sometimes, the most delicious treats are the ones we whip up ourselves, using familiar ingredients in new and exciting ways.
So next time you're at the grocery store, don't just pass by those canned cinnamon rolls.
See them not for what they are, but for the potential they hold, and let this hack guide you to a whole new world of deliciousness.
Watch the video below to get an up close look at how to make these scrumptious cinnamon rolls!
Please SHARE this with your friends and family.
Source: YouTube – Kristin's Friends Cooking