Ah, the joys of biting into a juicy slice of watermelon on a scorching summer day! But what if you could elevate that experience to a whole new level of deliciousness?
Enter the "watermelon whip," a heavenly creation that's a cross between watermelon soft-serve and sorbet.
This mouthwatering treat is the brainchild of Ash and Tay, the dynamic duo behind the YouTube channel "Twin Coast," where they whip up all sorts of scrumptious goodies.
The best part? Crafting this delightful dessert requires only three simple ingredients.
For two servings, you'll need:
2 cups of frozen watermelon
2 cups of frozen strawberries
1/4 cup of your preferred nut milk
If you're feeling extra adventurous, you can also have a second watermelon on hand to serve as an edible bowl. Now, let's get to the fun part—making the watermelon whip!
First things first: chop up your watermelon.
Slice it into wedges and carefully remove the fruit.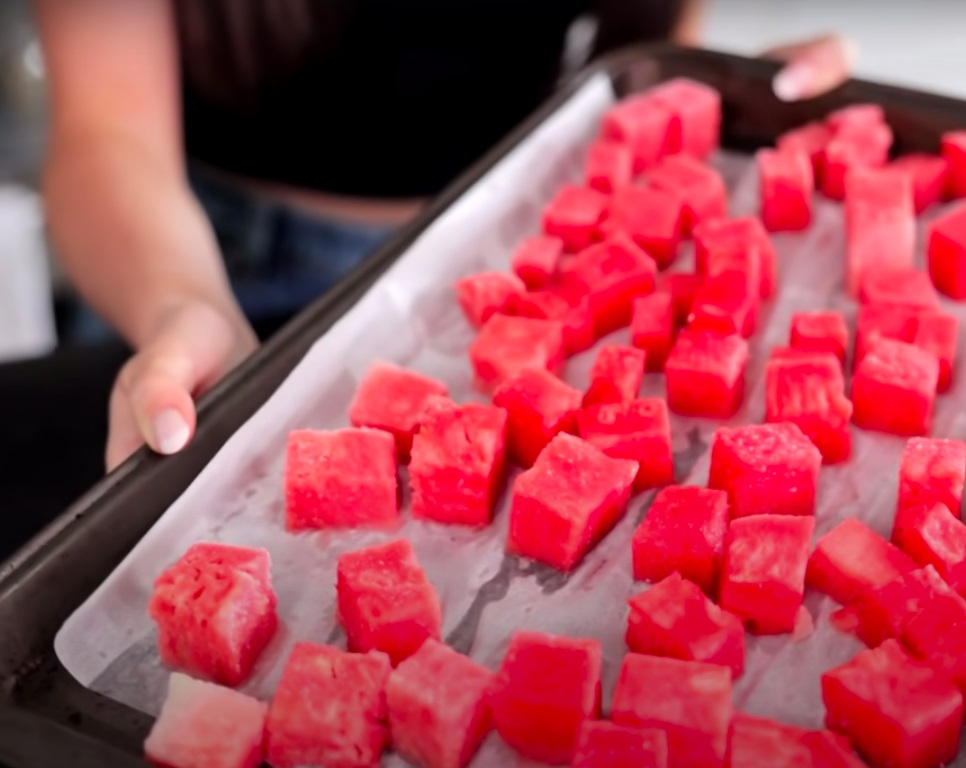 Then, cube the watermelon flesh, aiming for uniform sizes. The more even the cubes, the better the end result will be.
Next, it's time to freeze those cubes. Lay them out on a tray and pop them into the freezer. For the best results, let them freeze overnight.
While you're at it, make sure you're also freezing the strawberries, unless you've bought them pre-frozen.
Now, let's prepare the watermelon bowls. Cut a watermelon in half and scoop out all the flesh. You can either eat this immediately or freeze it for your next batch of watermelon whip.
Ready to blend? Toss your frozen watermelon and strawberries into a blender.
Add in your choice of nut milk—be it almond, cashew, or even dairy milk, although the latter might alter the flavor a bit.
Blend away until you achieve a smooth, sorbet-like consistency. The texture should be creamy and easily scoopable, making it the perfect summer treat.
Finally, scoop your freshly-made watermelon whip into your hollowed-out watermelon bowls and serve immediately.
Trust us, you won't want to waste any time snapping photos for Instagram; this treat is best enjoyed right away!
So go ahead, watch Ash and Tay's video to see how it's done.
And as you relish every spoonful of this luscious watermelon whip, take a moment to appreciate the creative minds that brought this tantalizing treat to life.
In a world where culinary boundaries are constantly pushed, Ash and Tay have managed to capture the essence of summer in a dessert that's as visually stunning as it is delectable.
Whether you're lounging by the pool, hosting a barbecue, or simply seeking a moment of indulgence, the watermelon whip promises to be a refreshing and satisfying culinary adventure.
This is the perfect treat to get you through the dog days of summer.
Check out the full recipe in the video below!
Please SHARE this with your friends and family.