Imagine this scenario. It's a cozy Sunday afternoon, the scent of freshly baked crackers fills your home, and there's a twist on the air – a zesty kick of green onions.
It's not your everyday snack, but then again, who wants ordinary?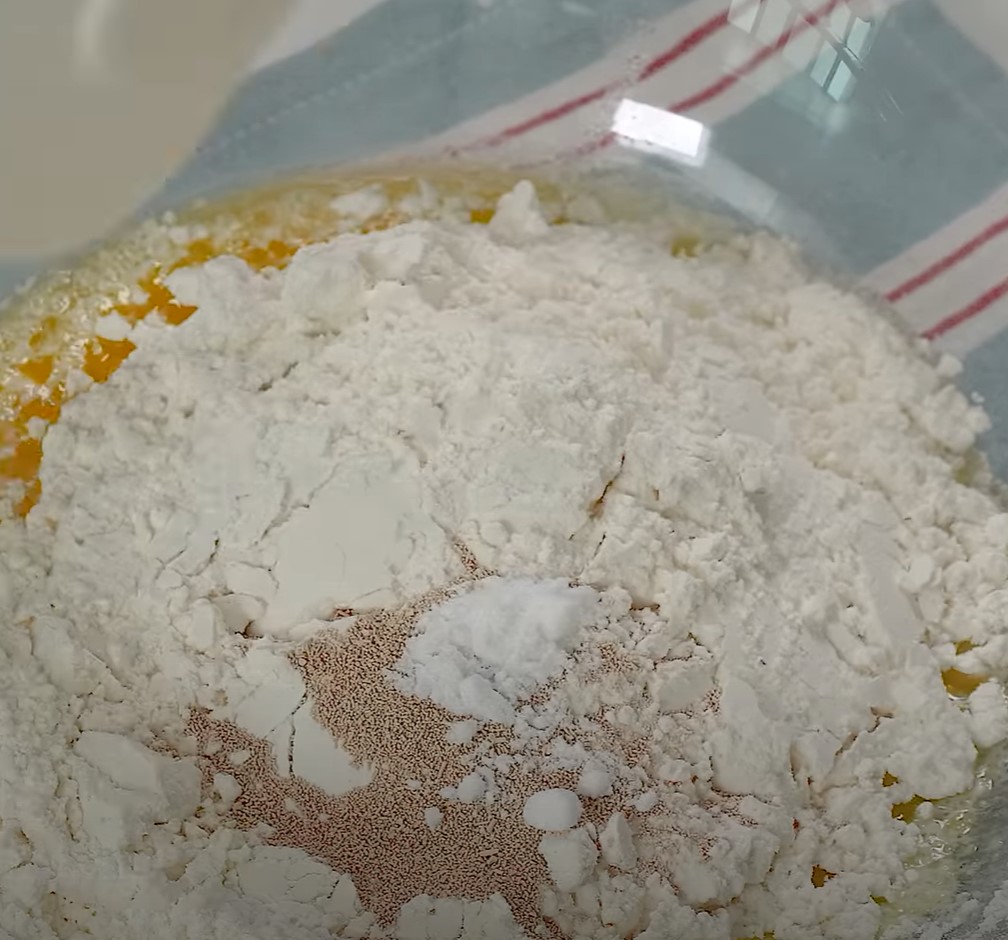 So, here's the scoop.
You start with the basics:
a splash of milk (about 1/4 cup or 60g)
a dollop of melted unsalted butter (that's 2 tablespoons or 30g)
and just a smidge of salt (around 1/3 of a teaspoon or 2g)
Mix them up, and you've got the beginnings of something special.
Now, for the heart of the cracker:
sift in roughly 1 1/8 cups (150g) of cake flour
sprinkle in a pinch of yeast (about 1/2 teaspoon or 2g)
and a dash of baking soda (close to 1/4 teaspoon or 1g)
Give it a good stir, but don't overdo it. A bit of texture adds character.
And then, the pièce de résistance: those vibrant green onions. Chop up the green bits, about 1/4 cup (35g), and toss them in.
Trust me, they're the game-changer.
Feeling a bit adventurous?
Throw in 1 1/2 tablespoons (10g) of sesame seeds. They add a lovely crunch and a hint of nuttiness that pairs beautifully with the green onions.
A quick knead, and you're almost there.
Patience is key now.
Let the dough take a little nap, covered snugly in cling wrap, for about 30 minutes.
It's like letting a good wine breathe; it just gets better.
Rolling out the dough is where the fun really begins.
Sandwich it between two sheets of baking paper and gently press it out.
Grab your rolling pin and go to town, aiming for a thin, even layer.
Think of it as a blank canvas, waiting for your artistic touch.
With a crinkle-cut knife in hand, trim the edges and carve out bite-sized pieces.
A few pokes with a fork, and they're oven-ready.
It's like prepping little soldiers for a parade.
Into the oven they go at 338°F (170°C) for a mere 15 minutes.
The result? Golden-brown crackers with a deep green onion flavor, so irresistibly crunchy that you might just end up eating the entire batch yourself!
The rich buttery base, combined with the aromatic green onion and the nutty hint of sesame, creates a symphony of flavors that dance on the palate.
So, here's the thing. These aren't just crackers; they're a statement.
A resounding ode to the magic that happens when you mix passion with a pinch of creativity.
Dive in, share, or hoard them all to yourself. But whatever you do, remember to enjoy every crunchy bite.
After all, life's too short for bland snacks.
See just how easy these homemade green onion crackers are to make in the video below!
Please SHARE this with your friends and family.