There's nothing like a delicious, hearty meal – but when it's easy to cook as well? Sign us up.
Get ready for a heavenly beef stew recipe that uses a slow cooker. Plus, you don't even have to brown the meat first!
It all comes from the Simply Mamá Cooks YouTube channel, where mom Angelica shows step-by-step how to make this hot and yummy dinner.
Here's what you'll need:
3 lbs beef chuck roast
1 1/2 lb potatoes
3 medium carrots
2 celery sticks
3 cloves garlic
1 envelope of beefy onion soup mix
2 tsp Worcestershire sauce
1/2 tsp salt
1/2 tsp black pepper
1/2 tsp dried thyme
5 Tbsp all-purpose flour
1 dried bay leaf
8 oz frozen peas
Let's get started!
The process begins by seasoning the meat with Worcestershire sauce, salt, and dried thyme, followed by a coating of flour.
This not only flavors the meat but also helps in thickening the juices as it cooks.
Next, the focus shifts to preparing the vegetables.
This involves peeling and cutting potatoes and carrots, mincing garlic, and chopping celery.
Once prepared, the ingredients are layered in the slow cooker.
A packet of beefy onion soup mix is also added to enhance the flavor.
In addition, a bay leaf is placed in for that extra punch of flavor.
A key tip shared is the importance of resisting the temptation to lift the slow cooker lid too frequently.
Doing so causes the slow cooker to take longer to heat up.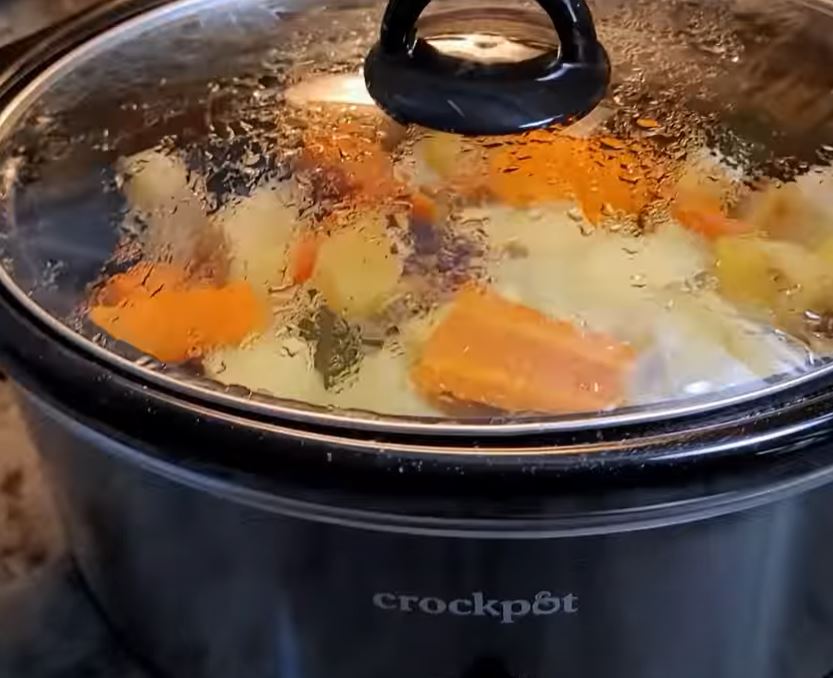 With that in mind, the cooking process continues for three hours at high heat.
At the three-hour mark, Angelica gives everything in the slow cooker a good stir, and oh my, is it ever amazing looking!
She then closes it up and lets it continue to cook.
After one more hour, rinsed frozen peas are mixed in and the bay leaf is taken out.
While the stew cooks for one additional hour, the mom whips up some toasted French bread, which pairs perfectly with the comfort meal.
Once the beef stew has cooked for five hours total, it's finally complete!
Angelica skims some of the fat off the top, then sprinkles on some chopped parsley for a burst of color and freshness.
The final dish is a sight to behold, with the meat so tender that it easily falls apart.
She then ladles the stew on top of the crusty French bread and it's an absolutely mouthwatering sight.
Simply Mamá Cooks fans have shared comments like:
"Absolutely amazing 🎉 made this for the family and they loved it ❤ you are such an amazing cook🙂"
Someone else wrote:
"Thank you. I loved this receipe.. I have made it for the very fussy grandkids and they gobbled it right up. Today, I am cooking a pot for my elderly neighbours. This is going to be regular for my kitchen. A very simple stew that is rich in flavour and so easy to make."
Watch the video below to see how to make this delicious slow cooker beef stew!
Please SHARE this with your friends and family.