There are many different types of food preparation and preservation.
Some processes require artificial preservatives for longer shelf life, while others only require natural ingredients as preservatives.
Shelf life is determined by ingredients used.
It's called "Atomic Bread" for a reason.
This recipe's shelf-life is unbelievable.
Let's take a look at this great recipe called "atomic" bread and how it is prepared.
These are the ingredients:
1 teaspoon of Dry Yeast
300 ml of water
230 grams of whole wheat flour
60 grams of ground flaxseed
50 grams of pumpkin seeds
50 grams of sunflower seeds
50 grams of sesame seeds
Salt to taste (depends on your preference)
Mix the yeast into a jar with water.
In a big bowl, pour in whole wheat flour and the seeds. Add salt to taste.
In the video, she added a teaspoon of salt. Then add the mixed yeast into the bowl.
Stir all the ingredients.
Mix until they are well incorporated.
Once you get the right dough texture, cover it with plastic wrap and let it rest for about 60 minutes in a warm place to let the dough expand.
This process is called letting it "rise".
Once it rises, knead it. Only knead it a little and do so gently.
Prepare your wide-mouth jars for the dough. These are preferred for easier access to the bread after it's baked, as with a regular mouth jar you would have to pull the bread apart to get it out.
In the video, she used jars with rubber seals. Make sure you remove the rubber gaskets before baking. You can place them in hot water to sterilize them.
Coat each jar with oil.
Fill each jar halfway with dough.
You can use any size of jars as long as they are filled in half.
Tamp the dough down slightly as you fill it to get rid of any perceptible air pockets.
Clean the top half so no residue of the dough is left, including the mouth of the jars.
Close the lid and let it stand for 20 minutes in a warm place.
Preheat oven to 392℉ while waiting for the dough to expand more in the jars.
Before baking, coat the top of the dough with oil.
Place it in the oven for 45 minutes.
Use padded gloves to remove the jars from the oven. Take caution as these jars are hot!
Let them cool down a bit for a few minutes. Use a piece of cloth or padded gloves while replacing the rubber gaskets.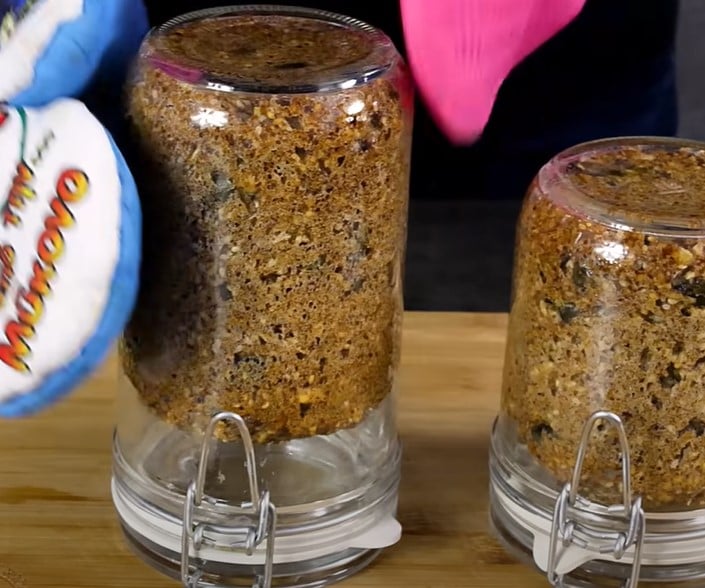 Store in a dark place up to a year.
Close the jars with the lid sealed tight and let them cool in a dark place. Make sure you are placing them upside down.
With this method, you can store them for longer periods and not worry about spoilage.
In fact, it is widely claimed this recipe can easily stay fresh for up to an entire year.
She opens one jar so we can see that the bread looks delicious and flavorful. The texture looks great and most especially, the bread is nutritious.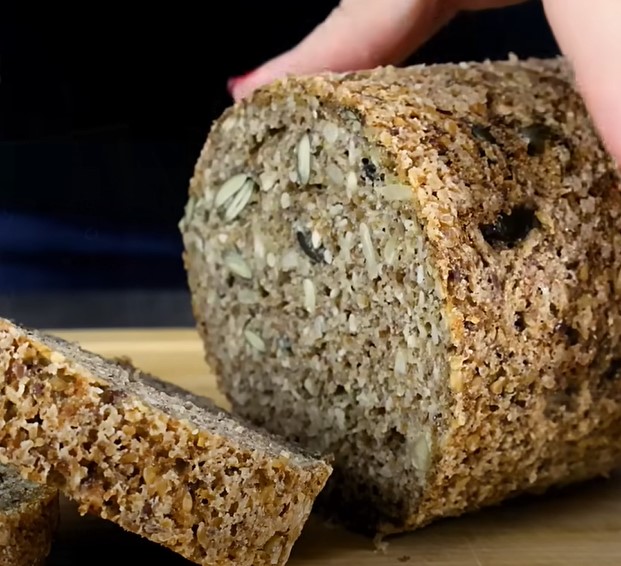 The video has been viewed more than 20 million times already since it was posted on February 12, 2023.
Many people appreciate it and are thankful it was shared. Some have already tried and testified to how delicious the recipe is.
See how Tanja makes this wonderful recipe in the video below!
Please SHARE this with your friends and family.
Sheehan Diapues is a contributor at SBLY Media.