If you love cake and apples, we have the recipe for you.
This recipe combines these two ingredients for one delicious and moist cake.
There's no doubt that apples are delicious, but they could also do wonders when combined with other ingredients. If you love apple pies, then you would love this apple cake.
The ingredients are pretty simple, so you might have them readily available if you've baked before.
Did you know that apples contain different types of antioxidants, including phloridzin, quercetin, catechin, and chlorogenic acid?
We don't need to convince you about how delicious and healthy apples are, right? This recipe got over 12 million views.
Here's what you'll need:
8 inch round baking pan
3 medium-sized eggs at room temperature
1/3 cup or 75 grams of sugar
1 tablespoon or 8 grams of vanilla sugar
2/3 cup + 1/3 cup or 150 grams of flour
2 teaspoon or 10 g baking powder
1/3 cup or 100 g melted butter
3 fresh apples
3 tablespoons of sugar
Cinnamon powder
Here's how to make the cake:
Step 1. Crack your three eggs in a bowl. Using a hand mixer, mix the eggs until foamy.
Step 2. Once you have achieved your desired consistency, add 1/3 cup of sugar and mix. After a minute, add one tablespoon of vanilla sugar. Mix until well incorporated.
Step 3. Add 2/3 cup + 1/3 cup of sifted flour and two teaspoons of baking powder. Mix until creamy.
Step 4. Add 1/3 cup of melted butter. Mix thoroughly and set aside.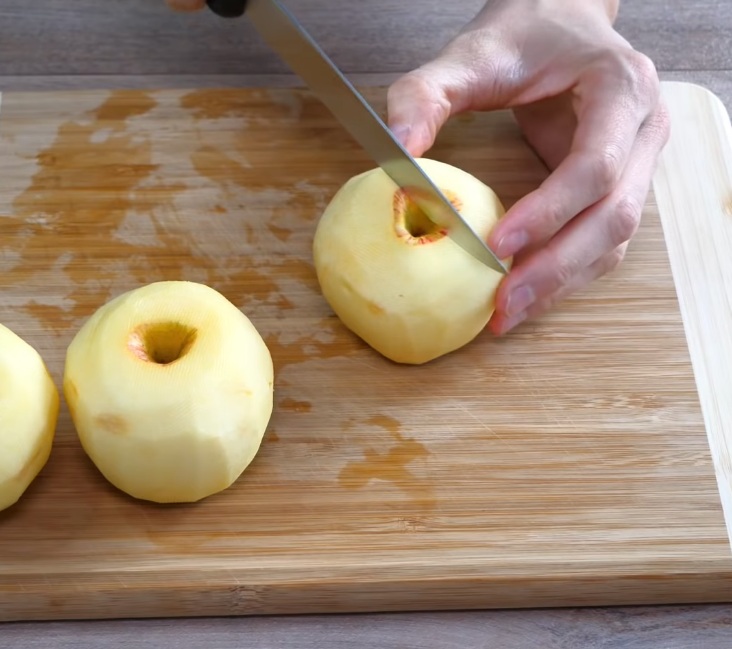 Step 5. Wash and dry your apples and then peel them. Cut them into 3cm-sized pieces. Set aside.
Step 6. Line your baking pan with parchment paper, and then grease.
Step 7. Add your apples, and mix three tablespoons of sugar. Mix well until all apples are coated, and then sprinkle some cinnamon powder. Smells so good, right?
Step 8. Pour the batter and tap the baking pan to release excess air.
Step 9. Bake your cake for 35 minutes at 180 ° C/ 356° F in a preheated oven.
Step 10. Remove the cake from the pan. You could already serve this, but, according to the baker, she found something that will make this cake even better.
Here's a bonus step:
Put the cake back into a baking pan and into the oven and broil for 3 more minutes to achieve that golden and crispy crust. Just look at that cake. You can already imagine how great it smells and the taste?
According to Evelina, the owner of the YouTube channel Kirschnenko Kanal, the taste of this Apple Cake is divine.
You can serve this cake warm or chilled – your choice.
You can also put some whipped cream on if you want. We're pretty sure everyone will love this simple but gorgeous Apple cake. What do you think?
This cake is sure to be a hit at your next family dinner. Low effort and delicious — what's not to love?
Check out the full recipe below!
Please SHARE this with your friends and family.
Jenny Brown is a senior writer at Shareably. She is based in San Francisco and can be reached at
[email protected]