Pizza, a universally adored dish, has a way of tantalizing our taste buds with its cheesy goodness and crispy crust.
However, there are times when the craving hits, but the convenience of an oven or the patience for a lengthy recipe is lacking.
Not to mention, ordering pizza from a restaurant can be pricey.
Fear not, for there's a way to satisfy that pizza yearning swiftly, effortlessly, and inexpensively.
The YouTube channel "Cooking Satisfaction" shared a recipe for a "5-minute easy pan pizza," that requires no oven or yeast.
But what's incredible is that the end result is a hot, delicious pizza made from scratch!
Here are the ingredients you'll need (for two 8-inch pizzas):
Pizza Dough:
– 1 Cup all-purpose flour
– 1/2 Cup Greek yogurt (125g)
– 1 Tsp baking powder
– 1 Tbsp sugar
– Salt
– Olive oil (used for greasing)
Pizza Sauce:
– 1/2 Cup tomato sauce
– 1/4 Tsp basil
– 1/8 Tsp garlic powder
– Salt and pepper to taste
Toppings:
– Pre-baked pepperoni
– Mozzarella cheese
The magic begins with the dough, which is surprisingly simple.
Instead of the traditional yeast-based approach, this recipe uses a blend of all-purpose flour, greek yogurt, baking powder, sugar, and a pinch of salt.
The addition of sugar not only sweetens the deal but also ensures a tender crust.
Once combined, a cutting board is dusted with flour, ensuring the dough doesn't stick to it.
Then it's kneaded until smooth.
Next, the dough is cut in half, and one of the pieces is set aside (since the recipe is for two 8-inch pizzas).
With the dough ready, it's time to shape it.
After forming it into a ball, it's then spread out into a circular shape using a rolling pin.
It's now ready for the pan.
The stove is turned to medium heat and the pan is greased with olive oil.
Once it's heated, the dough is placed inside and it cooks for 3-5 minutes (until golden brown).
While the dough cooks, it's time to whip up some homemade pizza sauce.
This sauce is a delightful blend of tomato sauce, basil, garlic powder, and the essential salt and pepper.
Combine all of the ingredients and blend until it's smooth.
Now it's time to flip the dough.
Once the dough starts to bubble and the edges are golden brown, it's flipped over with a spatula and the heat is reduced to low.
As the bottom cooks, the yummy pizza is assembled!
Sauce is added on, followed by shredded mozzarella cheese and pre-heated pepperoni.
Finally, a lid is put on top and it cooks for 4-5 minutes (or until the cheese is melted).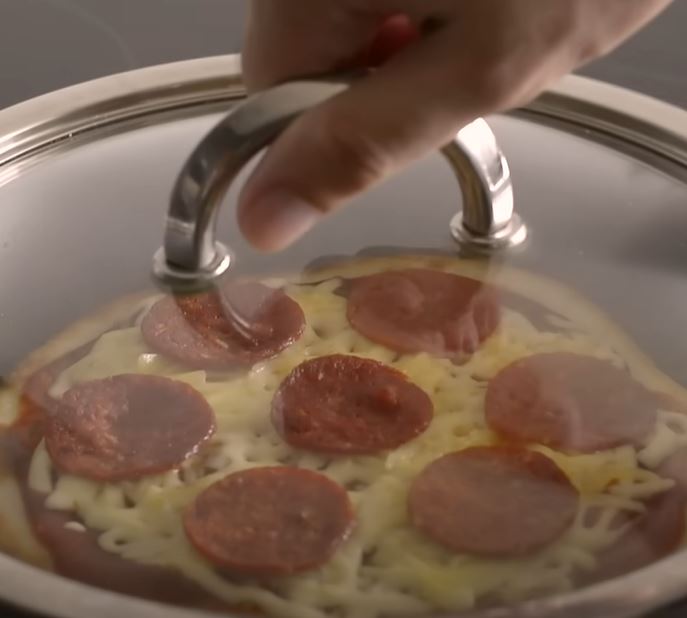 As the lid is lifted, the sight is nothing short of culinary art – melted cheese, crispy pepperoni, and a crust that's just the right amount of crispy and soft.
It goes to show that delicious pizza doesn't always require an oven or hours of preparation.
Sometimes, all it takes is a pan, a few ingredients, and the passion for creating something delightful.
Be sure to watch the video below to see first-hand how to make this EASY mouthwatering pizza!
Please SHARE this with your friends and family.