Getting down to the "meat and potatoes" of something always means to get to the best parts. It's a pretty funny expression, but you can see the truth in it. Meat and potatoes are a very, very good combo.
So when you start craving for meat and potatoes, what exact recipe should you go for exactly? This might help you out.
This meat and potatoes recipe is savory and simple. Why not give it a try if it's that combination you're after?
Get some potatoes out – about 3 should do the job. Slice them lengthwise into flat shapes like you see here.
Then get some baking paper and 300 grams of cheddar cheese out. You know the drill, paper first, then spread the cheese over it.
Those potatoes aren't just going to sit there like that all day. Start laying them out over the cheese on the tray like here, and sprinkle salt over them.
Don't overdo it with the salt. Give it just enough that you see a visible, light cover of salt on all the slices.
Then, once you've applied the salt in moderation, brush some vegetable oil over the potatoes – about 2 tablespoons of it.
Then pop that bad boy in the oven at 200℃ for 30 minutes.
Get another 2 tablespoons of vegetable oil for this next step: the filling!
In a sauce pan, add the vegetable oil in the amount stated above, and about 500g of ground beef with it. You can already tell this filling is going to be good.
Mix it regularly 'til you can tell it's beginning to cook.
Then chop up one onion plus three green peppers and throw them in there too.
Onions and beef together are always a great sign. Even on steak, it's a combination you can never go wrong with.
Give that a good mix too, and add more vegetables.
This time, add 3 cloves of garlic and about 2 tablespoons of tomato sauce. Follow that with 20 grams of tomato sauce.
I'm watering at the mouth already, so let's finish this recipe soon!
We want this filling to be as tasty as possible, so let's add a few more things! Chili flakes, black pepper, cumin, thyme, and salt.
Then, 3-4 sprigs of parsley as the video says.
Parsley often signifies that you're serious about what you're cooking, so don't mess this one up! Not that you could, but I'm just saying.
So now those 30 minutes have passed and the potatoes are ready to come out of the oven. It's time to put more cheese on them.
Put the minced meat filling you just made all over it. Add more cheese, and then roll it up.
Now doesn't that look mouth-watering?
Sprinkle more cheese and parsley before putting it in the oven a 2nd time. This time, 10 minutes at 200℃.
When that's done, you'll be able to treat yourself to a fantastic, savory meat and potatoes roll.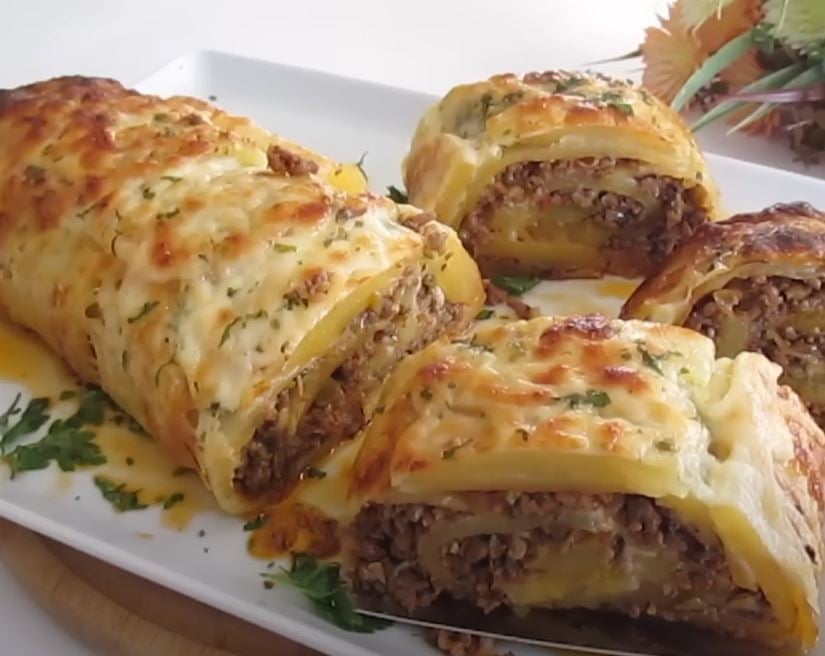 Watch the whole video to see how it's done in real time. Please give this article a share too!
Please SHARE this with your friends and family.
Article Sources:
Enfes Yemek Tarifleri on YouTube
Luis Gaskell is a contributor at SBLY Media.