A woman named Clara has become famous on YouTube for her incredible recipes and stories from the Great Depression.
And the most incredible part was she was actually alive during that time.
That's right, on her YouTube Channel Great Depression Cooking, she revisits moments from her life's history and shares recipes straight from her kitchen.
If you know anything about the Great Depression, you probably know that people had a hard time getting proper groceries every week.
A lot of people had to scrape together what they had just to survive, and this dish reflects that history well.
The Poorman's meal was made mostly just to provide sustenance.
It was meant to be cheap and hearty. All the ingredients had to be pretty easy to obtain and they had to meet some, if not most, nutritional needs. It tasted good, that was just a lucky benefit.
Now that you know its fascinating history, you probably want to know how to make it.
So let's start with the ingredients list. It's quite small.
The main ingredients are potatoes and hot dogs. Hot dogs were cheaper than other meats, so they became the de facto meat to eat.
There's a small list of other ingredients you should have on deck.
Make sure to have oil (whatever type of vegetable oil you like), onions, and a tomato sauce. You won't use the tomato sauce much, but it's important to have some for flavor.
Once you have the ingredients, peel and cube the potatoes.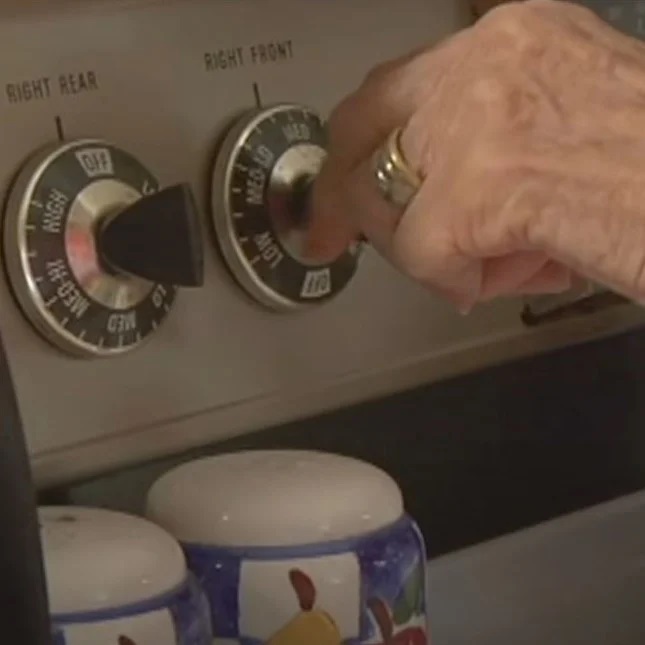 While making this meal, Clara shares some stories from her childhood. She says:
"I had to quit high school cuz [we] couldn't afford socks, couldn't afford anything to wear. But we survived. We survived — we were all fat! Eating potatoes! My father used to buy a sack of potatoes, and we ate potatoes every day. Potatoes with pasta, potatoes fried, potatoes with eggs…potatoes were a dollar a sack."
Clara also mentions that she cooks Poorman's meal for her grandsons and their friends. They seem to like it.
Put the potatoes in a pan, then slice onions into it.
Then, drizzle oil over the potatoes and onions and fry the food on medium heat.
While those are cooking, slice up the hot dogs.
Once the potatoes have browned slightly, it's time to add the finishing touches.
At this point, spoon a few teaspoons of tomato sauce into the pan.
You don't want to add a lot, but just a little bit for flavor.
Next, you can put the sliced hot dog into the simmering food mixture. If you want your potatoes a bit softer, you can pour some water into the pan to steam them.
And that's it. A quick, easy, and practical meal.
This meal gives you just enough protein and carbs to satisfy some nutritional requirements. It looks pretty tasty too.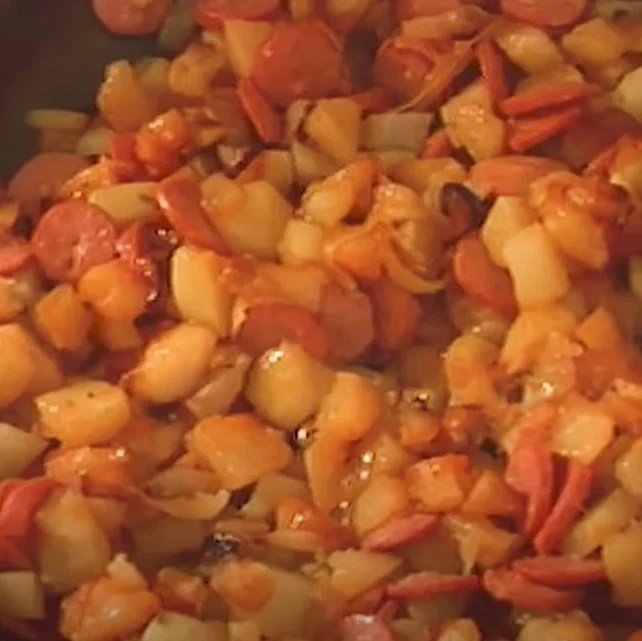 It isn't the fanciest meal, but it tastes delicious and costs very little to make. And with the video below, you get the bonus of hearing Clara's incredible stories!
Check out the full tutorial in the video below!
Please SHARE this with your friends and family.
Patricia Lynn is a senior writer at Shareably. Patricia is based out of San Francisco and can be reached at
[email protected]