Summer's heat is still far from over.
This year, summer started on June 21 and will end on September 23.
Many people enjoy traveling out of town or to different countries to visit beautiful beaches around the world.
Apart from that, the hot season is also the perfect time to indulge in fruit snacks that are refreshing and satisfying.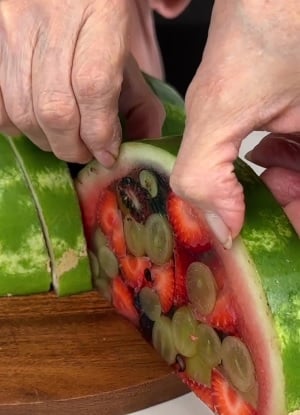 And just in time, a grandma has recently shared her fresh-fruit watermelon jelly recipe in a video that has now amassed a whopping 78 million views (and still counting) on Facebook.
According to the person who uploaded her tutorial video, who's also her daughter, this grandma "is a former circus acrobat, originally from Bulgaria, and loves to cook!"
This is the exact definition of a quick and easy recipe. No rocket science or any complicated steps, just this grandma and her expertise in the kitchen.
If you love having snacks in between meals but are also particular with diet, then you are in for a treat!
What do you need?
Watermelon
Strawberries
Blueberries
Cotton Candy Grapes
Raspberries
Blackberries
Gelatin powder
Water
Sugar or Honey (optional)
Note: Make sure to pick the fresh ones to prolong the preservation of your fresh-fruit watermelon jelly snack. Shall we start?
Step 1: First, toss the strawberries, blueberries, cotton candy grapes, raspberries, and blackberries into a huge mixing bowl. After that, use two large wooden spoons to mix them all together.
Step 2: Grab the watermelon and make an opening on one of its bases. Follow the size of the opening as shown in the video.
Step 3: Next, using an ice cream scoop, empty the watermelon by removing its flesh/pulp. Make sure to put it in a separate bowl for later use or consumption.
Step 4: After that, use a spoon and put the fruit mix inside the scooped watermelon. Make sure to leave enough room for the jelly mix.
Step 5: Put a cooking pot on low to medium fire and mix water with gelatin powder. Keep stirring the mixture until it boils. This ensures that the gelatin powder gets completely dissolved. After that, add cold water and continue mixing until it becomes cold to the touch.
According to her, adding honey or sugar is optional only if you want the gelatin to be sweeter.
Step 6: Now pour the gelatin mix inside the watermelon until it covers the entire fruit mix inside. Don't forget to give the watermelon some light pounding to ensure that there are no air bubbles inside.
Step 7: Put the removed portion of the watermelon back (now serving as a lid) and let it cool inside the fridge for 4 to 5 hours.
Step 8: When the time is up, take the fresh-fruit watermelon jelly out of the fridge and slice it whichever way you want. In this grandma's case, she sliced it in half (vertically) and then sliced it into thin portions (horizontally).
This fresh-fruit watermelon jelly is surely best enjoyed while it's cold. Make sure to share it with your family and friends so everyone gets the chance to chill at home.
Click the video below to see how it's done!
Please SHARE this with your friends and family.