Have you been on the search for a new, easy dessert recipe? Look no further!
The Cherry Pie Bubble Casserole is like if those two desserts had a baby.
The best part about this recipe is that it is ridiculously inexpensive to make. This is why it is the perfect dessert to serve to dinner party guests. With $7 and 45 minutes, you can cook this yummy dessert for about 12 to 15 people.
Here is how to make it:
Cherry Pie Bubble Up Casserole
Ingredients:
(2) Tubes of Refrigerated Ready-to-Bake Biscuit Rolls – $3.98
(1) 21oz. can of cherry pie filling $2.98 (see directions below if you want to make your own pie filling)
1/2 cup of powdered sugar – $0.09
1 Tbsp. of milk – $0.20
Servings 12 -15
Total Time: 45 minutes; Prep Time: 15 minutes; Cook Time: 30 minutes
Total Cost: $7.07; Cost Per Serving: around $0.58 – $0.28
Pie Filling
Ingredients:
4 cups of pitted tart red cherries – $2.17
1 cup of white sugar – $2.88
1/4 cup of cornstarch – $0.24
Total Time: 40 minutes; Prep Time: 25 minutes; Cook Time: 15 minutes
Total Cost: $5.29
Directions:
Step 1) If you're using canned pie filling, skip to Step 4. If not, pit your cherries.
Step 2) Put cherries into a saucepan and cover it while it cooks on medium heat. Stir often for about 10 to 15 minutes or until the cherries start to simmer and juice.
Step 3) Mix your sugar and cornstarch together with a whisk and pour it onto your hot cherries and mix everything together evenly in your pan.
Step 4) Bring everything to a simmer on low heat. You'll want to cook it for about 2 minutes or until it thickens. Take it off and let it cool.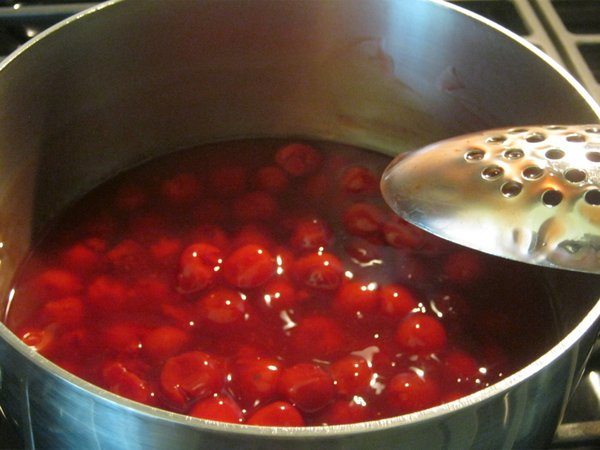 Step 4) Cut each slice of crescent roll dough into 4 pieces.
Step 5) Place the dough pieces into a casserole dish.
Step 6) Pour your cherry pie filling over the top of your dough and mix it together with the biscuits so the dough is covered.
Step 7) Place it in the oven and bake it at 350 degrees for 25 to 30 minutes.
Step 8) Mix 1/2 cup of powdered sugar with 1 tablespoon of milk. Drizzle your glaze on top of the biscuits.
Step 9) Scoop out with a serving spoon onto a plate. You can serve it with a scoop of vanilla ice cream or some whip cream if you prefer.
Want to watch the recipe in action? Watch the video below for step-by-step instructions.
Please SHARE this with your friends and family.
Article Sources:
Source: Shared Food
Patricia Lynn is a senior writer at Shareably. Patricia is based out of San Francisco and can be reached at
[email protected]