Tortillas are a staple in Latin America.
They are usually made from either corn maize or flour and are typically used in various ways.
A brief history of tortillas. Legend suggests that tortillas were invented by a Mayan peasant for his hungry king.
The first recorded use or mention of the tortilla dates back to 10,000 BC.
However, it was the Spanish who coined the term tortillas when they arrived in the lands of Latin America.
It means "Little Cake" in Spanish.
From then on, tortillas are known to be used in different ways, typically as wraps.
This recipe stretches the potential of tortillas.
Let's prepare the ingredients:
3 tortillas
1 or 2 tomatoes
1 1/4 – 1 1/2 cups shredded cheese
1/2 bell pepper
3 eggs
150 ml of milk
Salt to taste
Pepper to taste
1 to 2 handfuls fresh chopped parsley
Vegetable oil
Let's start cutting the ingredients. Make sure to place them in separate bowls or containers.
Roll three tortillas and cut them into thin strips. They should look like flat noodle strips after cutting them.
Put the stripped tortillas in a bowl and set them aside for later use.
Slice them and dice them.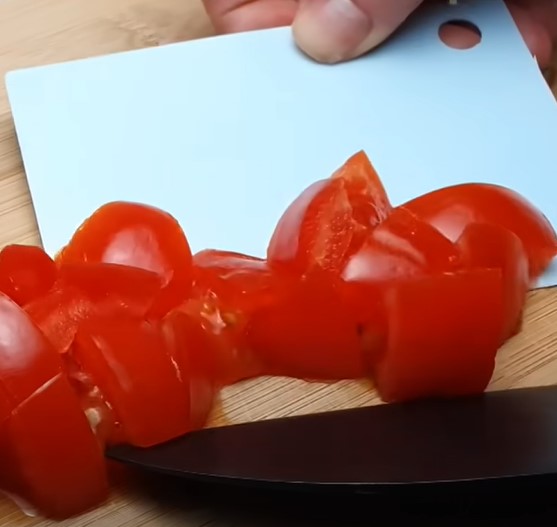 Next, slice your tomatoes into small dice. You can use up to two tomatoes depending on your preference. Now place them in a small bowl.
Using a grater, shred the whole cheese. It's better to use small holes in grating the cheese.
On to the Bell Pepper.
Cut it first in half and remove the seeds. We'll only use half of the bell pepper in this recipe. Once you removed the seeds, mince it into small pieces.
Beat the eggs with milk.
In a separate, medium-sized bowl, crack open three eggs. Add your milk into the bowl and start whisking until the eggs are mixed properly.
Add salt and pepper into the mixture and whisk until all ingredients are incorporated.
The last ingredient to prepare is Parsley, cut them into small pieces, including the leaves.
This will add more texture.
Heat a skillet over low heat.
Place vegetable oil, or any cooking oil of your preference, until the surface of the skillet is covered.
Pour in the stripped tortillas evenly in the skillet before adding the egg and milk mixture.
Next, place the minced pepper on top and make sure to spread them evenly.
Add the diced tomato to the skillet as we did with the pepper.
Then add the grated cheese for additional creaminess.
Last but not the least, place the cut parsley on top before covering the skillet.
Cook 10 minutes on low heat.
Once done, remove from heat and place it on a plate. It should come out just like a pizza.
This is a mouth-watering treat. It's a very simple recipe and you can serve them as your lunch.
Friends and family will enjoy this delicious grub and will be begging for more.
See the full mouthwatering process for this pizza alternative in the video below!
Please SHARE this with your friends and family.
Sheehan Diapues is a contributor at SBLY Media.